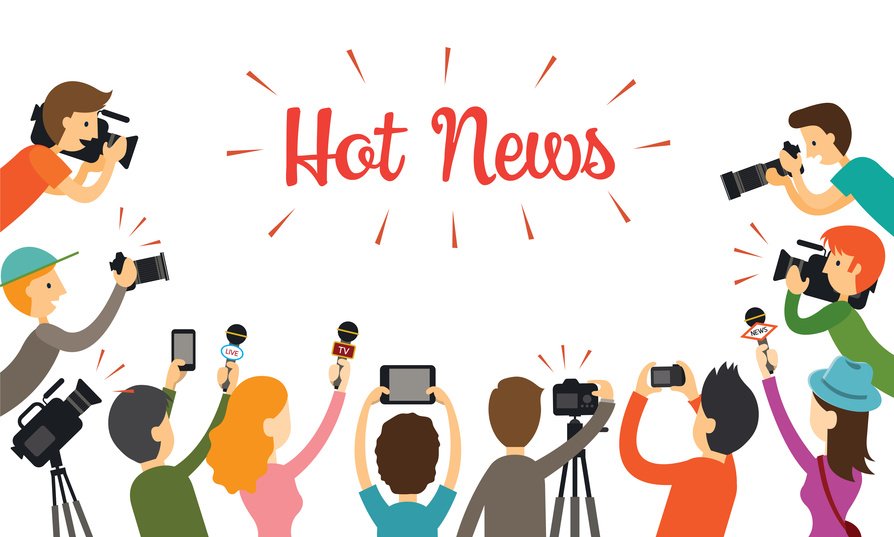 A major driver is (drumroll, please)…press releases. I know what you're thinking: Isn't the old-fashioned press release hopelessly obsolete in the brave new world of the digital era? Hasn't the press release been declared dead? If you Google the phrase the press release is dead, you'll find plenty of articles saying as much. But if Mark Twain were alive today, he might say that the reports of the death of the press release are greatly exaggerated. I don't mean to suggest press releases are the only driver of online publicity, but they do turn out to be far more important than many might otherwise think.  
The Three Types of News Companies Rank for in Google News results
I'm fascinated with exploring what businesses do these days to get online publicity. I wanted to know what actually works, so I dug into the data to see what would emerge. Specifically, I looked at Google News results for the month of June for some prominent tech companies, including GameLoft, DocuSign, BankRate, Booking.com, Salesforce, Zillow, and Wordstream. I found the articles appearing in Google News when searching on these companies' names falls into three broad categories1: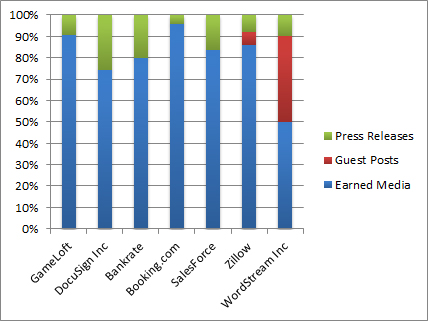 Press Releases. The company puts out a press release and Google News picks up this raw press release directly.
Earned Media. A news site publishes an article that covers or mentions the company.
Guest Posts. The company convinces a blog or news site to let the company write an article as a guest author.
What's Driving Earned Media?
Press releases are one of three primary drivers of online publicity, but that's not the whole story. I drilled down deeper to find out what was behind the online publicity that specifically falls into the earned media category. Here's what emerged: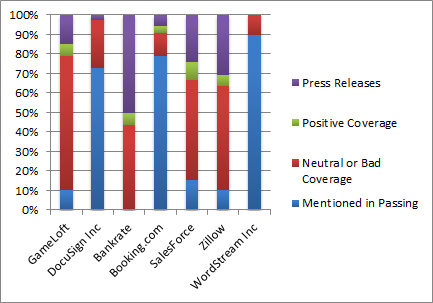 Press releases. The news site picked up on a press release and turned it into a story.
Positive company coverage. The company most likely pitched these.
Negative company coverage. These stories are neutral or bad and likely not pitched by the company.
Mentioned in passing. These are minor mentions that tend to be the result of the company's position in the industry.
PR Campaigns can directly influence only 2 of the 4 types of Earned Media
Businesses can attempt to influence the Earned Media coverage of their company by pitching journalists on positive stories involving their business and by putting out press releases.  The other two types of Earned Media are just a consequence of the firm's standing within the industry.  Companies that become more well known over time will tend to be mentioned more in passing in articles written about the industry.  And, unfortunately, companies that are newsworthy for negative reasons will also find themselves covered in the news.  So if we focus instead on the breakdown of the types of Earned Media that companies themselves can directly influence, here is what the breakdown looks like: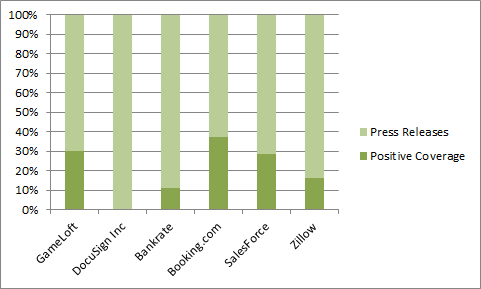 Not only do Press Releases drive online visibility, so does the Earned Media they can produce
So in other words, Press Releases are not only a way for companies to get instant visibility within online news, they also are the most effective driver of positive news coverage that journalists pick up (i.e., earned media).  Far from being dead, the press release remains one of the most effective ways to get online publicity for your business.  If your company has given up on press releases, you might want to re-think that position. I dug even deeper into how press releases function as drivers of online publicity by asking and answering some key questions:
What percent of press releases were in the top 100 Google News results?
Let's take a look at the staying power of press releases. I conducted this study in August, roughly two months after the press releases where initially distributed in June. How many of each company's June press releases were still in the top 100 Google News search results (when searching by the company name)? Here's the breakdown:
| | | | |
| --- | --- | --- | --- |
| Company | June Press Releases | Releases in Google Top 100 | Percentage |
| GameLoft | 6 | 4 | 67% |
| DocuSign Inc | 3 | 2 | 67% |
| Bankrate | 9 | 3 | 33% |
| Booking.com | 3 | 2 | 66% |
| SalesForce | 11 | 6 | 55% |
| Zillow | 7 | 3 | 43% |
| WordStream Inc | 3 | 2 | 67% |
What percentage of press releases turned into earned media?
Take a look at the data below which shows how many press releases each company distributed in June, and how many of those converted into earned media:
| | | | | |
| --- | --- | --- | --- | --- |
| Company | June Press Releases | Converted to Earned Media | Percentage | Earned Media Stories still in top 100 |
| GameLoft | 6 | 2 | 33% | 100% |
| DocuSign Inc | 3 | 1 | 33% | 100% |
| Bankrate | 9 | 2 | 22% | 100% |
| Booking.com | 3 | 3 | 100% | 100% |
| SalesForce | 11 | 3 | 27% | 100% |
| Zillow | 7 | 7 | 100% | 100% |
| WordStream Inc | 3 | 0 | 0% | 100% |
While the overall specific numbers are low, it's the percentage of press releases that converted to earned media where things get interesting. What is it about Booking.com and Zillow that resulted in 100% of their press releases converting into earned media? And why are the conversion rates so low for the others? These are mysteries that need to be unraveled to learn what works (more on that below), but the overall message is clear: Press releases can and do convert into earned media, and earned media is like the Holy Grail in the world of PR.  While press releases themselves show up in Google News search results and increase your company's visibility, they in themselves don't affect your website's Google search rankings in the long run.  
Earned Media directly impacts Website Search Rankings
On the other hand, Earned Media -- stories written about your company by a journalist which may have been prompted by a press release the journalist saw -- do contribute to your website's long-term search rankings (provided that they include a link to your website).  And they have the added benefit of being written by an objective third party, so the public does not view them as being biased in favor of your company.
Note that not every press release was still in the Google top 100 news results at the time of the study, but it is important to note how every single earned media story inspired by a press release remained in the top 100 Google News search results. This serves as further evidence how press releases that convert into earned media result in coverage that has impressive staying power.
What is notable about the successful press releases?
Let's take a look at what we can learn about press releases that converted to earned media and the resulting earned media stories remaining in the top 100 Google News results. Given that Zillow had 100% success in seeing all seven of its June press releases convert into earned media, I'll begin there. The seven Zillow releases all fall into two categories: Five of them covered research results and two of them covered a new product or service (or significant improvement of a product or service). Take a look at the titles of the five research results releases below:
As the Housing Market Recovers, Negative Equity Concentrates in the Rust Belt
Entry-Level Prices Continue to Soar while Top of the Market Stabilizes
Millennials Most Likely to Live Alone in Richmond and Pittsburgh
San Antonio and Nashville Named Sweet Spots for Homeownership
Homes with White Kitchens Sell for $1,400 Less than Homes with Yellow Kitchens
What stands out to me about these releases is how they all report on industry trends in the housing market. Anyone looking for a place to live, or people looking to sell a house or fill a rental vacancy, are going to find these releases contain information that is at least interesting if not immediately useful and valuable.
The two releases about products/services carry the following titles:
Zillow Boosts Accuracy with Update to Zestimate Algorithm
Renters on Zillow Have Competitive Edge with New Renter Profile
Similar to the research results releases, it is clear that each of these releases contain valuable information about why Zillow is good choice for people involved in the housing industry, whether as residents/tenants or real estate agents and landlords. It offers products and services that provide real value to its customers.
Interestingly enough, the only other company to achieve a 100% conversion to earned media for its June releases was Booking.com, which is also focused on housing, but in the lodging and accommodations industry. Each of its three releases converted into earned media, but all three are in different categories as follows:
BookingSuite's New RateIntelligence Product Provides Access to Unique Market Demand and Rate Shopping Data up to 360 Days in Advance (new product/service)
The Malia Effect: Booking.com Reveals a Third of U.S. Students are Considering a Gap Year Before College (research results)
Thierry Henry Announced as Booking.com's Official Ambassador for an Epic Summer of Sports (new marketing campaign)
As with Zillow, the release covering research results reports on a trend, in this case the fact that more and more students are taking a year off between high school and college, often for the purpose of traveling (and hence will need to figure out lodging and accommodations). It's a topic and trend that is going to be of interest to both students and their parents. The new product/service release also offers valuable information to anyone looking for ways to get the best rates on accommodations. Finally, the release about a new marketing campaign reveals the important strategy of choosing a soccer star as the brand ambassador for the campaign given that soccer is the sport with the broadest international appeal and fan base.
Not all Research Results get written up by Journalists
This topical analysis of releases that converted to earned media does not in any way mean that such releases will always convert to earned media. Take a look at the releases of Bankrate.com:
Bankrate: Mortgage Rates Rise Ahead of Brexit Vote
Arlington, Va. is Best City to Retire
New Cars Unaffordable in All Major U.S. Cities
Bankrate: Mortgage Rates Sink Lower
Nearly 2 in 3 Millennials Do Not Have a Credit Card
Bankrate: Mortgage Rates Plunge to 3-year Low Following Brexit Vote
Bankrate: Mortgage Rates Lowest in More Than 3 Years
Bankrate: Mortgage Rates Drift Lower
66 Million Have No Emergency Savings
All nine of these releases can be put in the research results category because they all report on trends. However, unlike Zillow and Booking.com, both of which had all their releases on trends convert to earned media, only three (33%) of these achieved the same result (the ones in bold). I think what's striking here is that five out of the six releases that did not convert are all about mortgage rates. Publications that are interested in a company's news releases are not likely to pick up multiple releases on the same topic in a short time period. However, keep in mind that these extra press releases that didn't convert to earned media still got Bankrate incremental exposure because they're coming up on Google News searches and syndicated to many news sites that pick up press releases verbatim. Just because a press release doesn't convert to earned media doesn't mean it's not worth doing.
Journalists May Be More Likely to Write About Trends than One-Off Events
Now let's take a look at another one of the companies that experienced less success in seeing its releases convert into earned media. Here are the 11 press releases I studied for Salesforce, a cloud-based customer relationship management (crm) software solution, with those that converted to earned media in bold:
Salesforce Chairman and CEO Marc Benioff to Participate in the World Economic Forum Annual Meeting of the New Champions 2016 (public speaking)
Salesforce and Microsoft Deliver Salesforce Lightning for Outlook--Unifying the World's #1 CRM and Business Email Services (new product/service)
Salesforce and Demandware Receive All Required Regulatory Approvals (merger/acquisition)
Salesforce Chairman and CEO Marc Benioff to Speak at TrailheaDX (public speaking)
Salesforce and Demandware Announce Early Termination of Hart-Scott-Rodino Waiting Period (merger/acquisition)
Salesforce Delivers '2016 Connected Patient Report' (research results)
Salesforce Commences Cash Tender Offer for All Shares of Demandware (merger/acquisition)
Salesforce Signs Definitive Agreement to Acquire Demandware (merger/acquisition)
Salesforce Unveils Lightning Customer Community--Delivering a More Intelligent, Personalized and Rich Experience (new product/service)
Salesforce Blazes a New Trail for Developer Success, Empowers Anyone to Develop Apps Lightning Fast (new product/service)
Salesforce in the Leaders Quadrant of the 2016 Magic Quadrant for Mobile App Development Platforms (awards)
Unlike Zillow and Booking.com, the one research results release (#6 above) from Salesforce did not convert to earned media (i.e. we didn't see articles inspired by this release in Google News search results). What I notice is how the Salesforce release headline is about a report the company is releasing, which is very different from the Zillow and Booking.com releases that clearly identify the trend being covered with a straightforward headline. The Salesforce release and report may contain information about all kinds of important trends, but there's no compelling reason to read the release without clearly identifying at least one trend. Journalists and editors looking for news to report on can't immediately identify their interest in or the relevancy of the release.
Four of the releases (#3, #5, #7, #8) are about mergers/acquisitions, but only one of them converted to earned media. They are all about the same acquisition, and I think so if the goal was earned media, this many releases on the same topic was unnecessary. Again, however, there is still value to be gained in multiple releases, but with the caveat they aren't all going to convert to earned media.
Two of the releases (#1, #4) are about upcoming speaking engagements for the company's CEO. While these show how engaged the CEO is out in the world, I'd bet they would have had a better chance of converting if instead of announcing an upcoming speaking event they were timed for after the event and covered something interesting or new that the CEO actually said.
New products/services releases did very well with both Zillow and Booking.com, but for Salesforce, one of its three corresponding releases failed to convert. I noticed that the Zillow and Booking.com releases about new products/services were all between 500 and 600 words. By contrast, the Salesforce releases (#2, #9, #10) were all over 1,000 words, and the one that failed to convert was a whopping 1,509 words. I think it was too long and had way too much information packed into it. In general, I believe press releases are better off being brief rather than long-winded.
Lessons to Learn from Successful Press Releases
Although my study was of a limited number of companies and a relatively small number of press releases, there are lessons to be learned here as follows:
News you can use. Press releases more likely to convert to earned media are those that bring information that would be considered newsworthy to a wide audience, whether it's a new product or service or reporting on a relevant or interesting trend.
Headlines matter. Crafting the right headline for a press release can have a profound impact on whether or not it converts to earned media. If you're going to write a press release about a trend, you need to clearly identify the trend being covered. If what you have is a big report about all kinds of trends, consider breaking it up into multiple releases that each covers only one a few of the most interesting and relevant trends.
Repetitiveness hurts. Multiple releases in a month that are all about essentially the same thing is likely to hurt your chances of seeing them convert to earned media. Which might be ok if the exposure from the press release itself is valuable to your business irrespective of additional coverage gained from it being reported on in original stories/reporting by the media.
Far from being dead, the press release is something that can and does facilitate companies getting earned media coverage online. The three lessons presented above represent just an initial offering of what to keep in mind when crafting effective press releases for your company.  If you're ready to start putting more science into the art of your company's publicity, check out the Newswire Genius Beta to get started today.
---
Research Notes
1. I did not include spurious search results (such as if an article appeared in the Google News search results because the company name was mentioned in an ad on the page); also did not include articles appearing on a company's own website, since that is the result of their cumulative SEO ranking efforts over time rather than current publicity efforts.