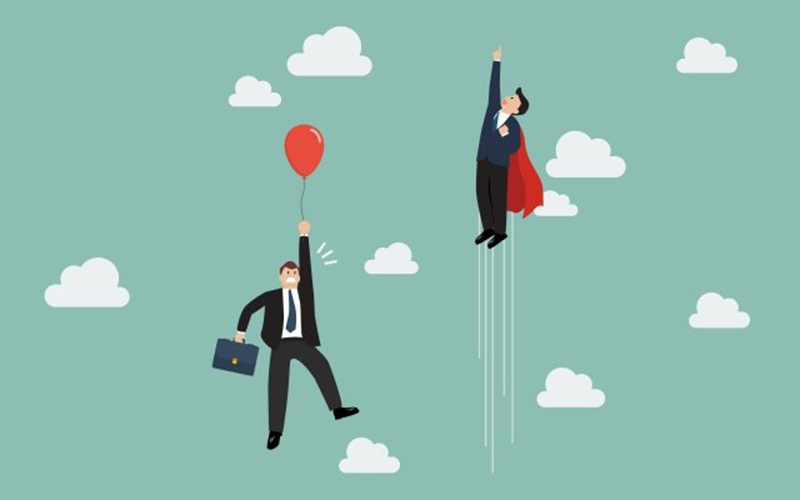 Publicity stunts grab attention.
As you'll learn from this article, publicity stunts come in all shapes and sizes – but it's their ability to cut through the noise and capture attention that makes them valuable and effective.
While traditional advertising is more of a slow and steady race, the PR stunt is all about extremes. They're designed to shock and surprise, to get large numbers of people talking all at once.
In this day and age, where the average consumer is inundated with onslaughts of information from every direction, more and more businesses are finding publicity stunts essential marketing tools.
Start-ups need them to get noticed, and big businesses need them to stay relevant.
Crafting a successful PR stunt can be a tricky business, however. Just because a stunt is shocking and grabs attention doesn't mean it will help your business.
Simply painting your logo on people and setting them loose to streak through a rugby match isn't going to cut it!
To truly be successful, a publicity stunt needs to both evoke emotion and connect back to your company in a way that makes sense to your target audience.
To help you find that balance for your own marketing efforts, here are 100 successful publicity stunts that paid off big time.
Installations
To promote their global re-branding in 2006, KFC set up an 87,500 square foot image of Colonel Sanders in the small desert town of Rachel, Nevada. While the installation, made from 60,000 tiles, was taken down after six months, the image was visible from Google Earth satellite photos for years. The stunt received coverage on many online blogs and media publications, including The Register, Mental Floss, Business Wire and NPR.

Image via GoogleMaps

To raise awareness for their Great Canadian Shoreline Clean Up project, the Vancouver Aquarium set up a thought-provoking art installation along Vancouver's shorelines, with life-size sculptures of animals made of coastline trash. The stunt generated national and international coverage in print, broadcast and online.

Lego capitalized on the national media frenzy surrounding President Obama's upcoming inauguration in 2008 and created an amazingly detailed Lego representation of the event. The installation used hundreds of thousands of pieces and was featured in many online media sites, such as The Guardian, BBC and Telegraph.

To celebrate the passing of legislation in London allowing residents to share their homes up to 90 days, Airbnb towed a fully-functional, two-story house through London on the River Thames. The best part? Airbnb hosted a contest where people could share photos of the house for a chance to win a complimentary 3-day stay in the floating house! The stunt was covered by sites like Time, Independent and The Guardian, and was a hit on social media, with its YouTube video receiving thousands of views.

The UK natural history channel Eden celebrated its launch by floating a 1.5 ton, 20 ft high statue of a polar bear down the river Thames, reaching 260 million people through coverage on social media and The Huffington Post, the BBC, The Guardian, The Evening Standard and more.

Duracell outfitted a bus stop in wintry Montreal with a special heater. To turn it on, people had to hold hands to complete its electrical circuit. The campaign, dubbed "Moments of Warmth," effectively connected the Duracell brand to the values of friendship and connection and was covered in numerous online media publications, including Time and Canada Nightlife. Its YouTube video has also reached over 2.6 million views.

To combat an epidemic of gum dropped on their streets, Dublin City Council stuck hundreds of shoes to the pavement with gum in a busy shopping center, along with a sign on the ground that read "Gum. It's Better Stuck in the Bin." The stunt was a hit with amateur photographers, took off on social media and was covered by numerous local blogs and media outlets.

To promote the release of Disney Sides videos, Disney put on a fun stunt involving a clever lighting installation. When people walked by a certain store-front in a mall, they were surprised to see themselves being mirrored by Disney character-shaped shadows. The campaign video reached a couple million views on YouTube in just a few days and has reached over 70 million views on Facebook.

As part of an Easter campaign for their Crème Egg chocolates, Cadbury created an interactive game for bus-stop passengers to play on interactive digital ad screens. The game was called "Goo the Egg," and players won points by smashing and gooing Cadbury Crème Eggs. The ads included many mentions of Cadbury's website, where players could find other fun games to play. Cadbury's Easter campaigns have become quite a tradition in the UK, generating excitement and anticipation every year.

To promote their new car, the Polo GTI, as a fun and speedy ride, Volkswagen created "fast lane" opportunities for people to try out around town, such as shopping carts with skateboards attached and slides down public stairs. Secret cameras caught everything on videos that were posted online, leading to 3.4 million views, 280k page views, and over 12,000 new friends for Volkswagen's Facebook page.
 

Giveaways

To promote classic restaurant values like companionship and friendship, an Israeli restaurant owner publicly offered his customers a 50% discount if they'd keep their phones off while eating at his restaurant. The stunt received positive media attention both locally and internationally.

MINI Cooper wanted to celebrate their 10th anniversary in Canada, so they found MINI drivers in the streets of Vancouver, Toronto and Montreal and threw spontaneous parties around their cars at red-lights. Drivers were given appreciation gifts and videos were taken of each party and shared online. The stunt received social media attention nationwide.

Lamborghini made international headlines in 2004, 2008 and 2014 after donating their supercars to Italian police forces. The police received Gallardos in 2004 and 2008 but got an upgrade to the 610 horsepower Huracán in 2014. Lamborghini also provided driver training to select officers.

For 2 days, Protinis closely monitored the Toronto Twittersphere for "hungry" tweets. Protinis engaged with the hungry Twitter users online and delivered Protinis snacks by scooter to many of them. Over 1,000 snacks were delivered over the 2-day campaign, generating over 470,000 social media impressions and spreading brand awareness to 800,000 Canadians on Twitter.

Back in 2004, Oprah ended an episode of her show by giving away a Pontiac G6 to all 276 members of her audience. The giveaway cost Pontiac around $7.7 million dollars but lead to an 87% spike in public awareness of the car, as well as huge spikes in Google and Yahoo searches, in the ensuing weeks.

Lucky Londoners got the chance to ride in a DeLorean on October 21st, 2015, the exact date Marty McFly traveled to in the classic 1989 film. Though this was not the first time Uber has done this (San Francisco, in 2013), the stunt was still a hit in the UK, gathering a lot of media attention and attracting a lot of excited Uber users in London.

To boost holiday sales, Toyota built a 60-ft. advent calendar out of shipping containers in a prime location in downtown Ontario. Local Ontarians could nominate someone to win a gift, leading to 24 lucky citizens opening a storage container for epic holiday gifts, such as trips to Las Vegas and Disney World. The heart-warming holiday campaign yielded 250,000 YouTube views, 3.4 million Twitter impressions, 40 million media impressions and an 11% increase in sales!

Coca Cola has installed special vending machines around the world to increase brand awareness by giving people wanting a can of Coke much more than they expected. Some machines gave free gifts (such as pizza, flowers and cupcakes), while others wanted audience participation first, such as recycled bottles, hugs and dance moves. Videos promoting these campaigns have gathered millions of views on YouTube.

To boost traffic, French restaurant Vatel sent live frogs to popular bloggers and journalists, inviting them to come to the restaurant to see that French cuisine was more than frogs. Everyone accepted the invitation and the campaign created $20,000 worth of publicity.

Reebok made headlines in 2014 with their campaign to connect with the CrossFit community. Many CrossFit enthusiasts follow the Paleo diet, which consists mainly of meat, fish, vegetables and fruit, so Reebok distributed 74 boxes of paleo-friendly Reebok Bacon to CrossFit athletes. The stunt was covered by Mirror, AdWeek, OutsideOnline and Fox News, among others.

To communicate their newly developed ability to cater to large events, Krispy Kreme reached out to multiple businesses, offering a "Krispy Kreme Occasions Double Hundred Dozen" (2,400 donuts in a 12' by 3' box) to whichever company could drive the most social media support with the #KKOccasions hashtag. The campaign reached over 28 million people, boosted traffic to Krispy Kreme's website by 500% and generated over 100 pieces of media coverage.
 

Good Causes

While it was not officially put together by any organization, one can learn a lot about PR stunts from the ALS ice bucket challenge. What started as one man's (Chris Kennedy) personal challenge to his friends to raise awareness for the neurodegenerative disease ALS exploded into a viral sensation. Millions of people around the world, including many celebrities, joined in and poured buckets of ice on their heads to spread ALS awareness, and $115 million was donated to the ALS Association. This challenge is a perfect example of a powerful marketing combination: a fun and simple challenge and support for a good cause.

Photo by Anthony Quintano, Flickr   Licensed under CC BY-SA 2.0

The WWF started Earth Hour in 2007 as a publicity stunt to raise awareness of climate change issues. For one hour, over two million people in Sydney went without essential electricity. Since then, the stunt has become a full-blown global campaign, with hundreds of millions of people in over 7,000 cities in 162 countries joining in. In 2015, the Earth Hour campaign won multiple awards at Marketing magazine's PR Awards ceremony in Singapore.

Meow Mix House was a parody spin-off of popular programs like Big Brother and Survivor, except with cats. Ten cats, from ten shelters around the country, hung out in a single room, recorded with webcams that people could tune into online. Each week a cat was "voted off," to be adopted and supplied with a free year-long supply of Meow Mix. The show landed Del Monte Foods' marketing director many interviews and was covered in numerous online publications, including the NY Times.

Melbourne ad agency DDB/Rapp helped raise research money for Parkinson's Victoria with a twist on the classic claw-drop arcade game. Instead of filling the game with stuffed toys and other typical prizes, they filled it with everyday items, allowing players to connect to the difficulty Parkinson's patients have performing everyday tasks, like picking up the phone or opening a carton of milk, for $1. The game obviously connected to people, as over $5000 was raised in the first 12 hours alone!

The Italian non-profit social network, cesviamo.org, organized a stunt to spread awareness of AIDS prevention techniques by inflating a giant condom and fitting 223 college students inside. The "condom mob" drew quite a crowd to which event organizers handed out AIDS prevention flyers and information about the campaign, and the YouTube video has reached over 70,000 views.

Dove launched the brilliant "Real Beauty" campaign in 2004, forgoing the typical models to instead feature six "ordinary" women in their underwear, with the aim of connecting with everyday women and celebrating natural bodies. The PR stunt was a huge success, boosting sales by 700%!

To promote the opening of a Turkish video call center for the hearing impaired, Samsung partnered with ad agency Leo Burnett to create a heartwarming video. With a month of preparation, hidden cameras were set up,  and many residents were taught sign language, so that Muharrem, a young deaf man, could experience a "day without borders." The video of the stunt was a heartwarming hit, gathering millions of views online in mere days and being positively featured on many media outlets, online and off, such as Entrepreneur.com, CNN Turk and Kanal D, the most influential private broadcasting network in Turkey.

Last year London saw the A's, B's and O's disappearing from street signs, from brand names like Odeon Cinemas, Waterstones and Green & Black's Chocolate, and from media outlets like the Daily Mirror and Campaign magazine. The campaign, dubbed #FilltheGaps, was started to address a growing shortage of blood donors in the UK. It was a big success, gaining national media attention and attracting thousands of new donors.
 

In support of San Francisco's annual Pride Celebration & Parade two years ago, Burger King served "proud whoppers," basic whoppers served in rainbow-colored wrappers that said "We are all the same inside." In so doing, Burger King connected deeply to their Millennial audience, who typically strongly support equality for all sexual preferences and lifestyles. The campaign won gold in the Promo & Activation category of the Cannes Lions Festival of Creativity, and a video ad of the campaign has reached thousands of views on YouTube.

You'd be hard pressed to find a more classic PR stunt than this one! We've all heard the story, but if you need a refresher on the details: American revolutionaries snuck aboard a ship in December of 1773 and threw 342 British chests of tea overboard in protest of the British Empire's oppressive taxation. The stunt was a huge success, reaching massive awareness in a time before the internet, phones or even the telegram and eventually leading to America winning its independence.

To draw attention to the plight of Albatrosses being caught in fishing boat lines, environmental conservationists cooked up a grand idea to electronically tag 18 Albatrosses and turn their migration across the Indian Ocean from Australia into a race. The campaign attracted celebrity sponsors for each bird and gained international media attention, being featured on sites like National Geographic and NBC News.

During Manhattan's World Water Week in 2010, Unicef shocked people with a vending machine selling dirty water with "flavors" like Hepatitis, Dysentery and Dengue Fever. The campaign served to raise awareness of the fact that millions of people around the world don't have access to clean drinking water. They also raised money, with each $1 donated (via the vending machine or by text) pledged to provide 40 children with safe drinking water for a day. The campaign struck a chord with consumers across the US and was covered in numerous print and TV media specials, including the NY Times.


Image courtesy of africa at FreeDigitalPhotos.net
 

Live Events

Kanye West launched his third fashion collaboration with Adidas, Yeezy Season 3, in February of this year. True to form, Kanye's show was far from normal. His models did not walk any catwalks but stood stock still, and Kanye debuted his new album The Life of Pablo during the event. Say what you want about Kanye, but the man knows how to get publicity, and this event was no different.

Samsung surprised New Yorkers with a free Black Eyed Peas concert, filmed by Avatar director James Cameron, following a promotional event for their new 3D TVs. The stunt generated over 2.4 billion media impressions.

What started as a small publicity stunt to attract attention to Macy's in 1924 has since become America's biggest and most beloved parade. More than 3.5 million people attended in 2015, with more than 50 million people watching the event live online or on TV.

To stir up publicity for the British Grand Prix in 2004, eight Formula 1 drivers toured through the streets of central London at a relatively slow 75 mph. The event was all over the news, and tens of thousands of fans flocked to get a glimpse of the racecars in action.

To attract attention to their eco-friendly campaign to introduce more green spaces into the city, Visit London covered Trafalgar Square with 2000 square meters of grass turf for two days in 2007. Hordes of happy Londoners took advantage of the event, taking their dogs for walks and lounging and setting up picnics, and the stunt was covered by many large publications, including the BBC, DailyMail and USA Today.

What is now the biggest bike race in the world started as a publicity stunt to increase paper sales for the newspaper L'Auto. The first race was a hit, doubling L'Auto's circulation and putting its rival, Le Velo, out of business. Besides short breaks during the two World Wars, the Tour de France has been an annual event ever since.

To promote sales of their classic Billy Bookcase, Ikea took 30 of them to Bondi Beach in Sydney and filled them with 6000 books. Visitors could donate $1 for a book or swap one with one of their own. The stunt attracted many visitors and was featured by numerous online publications, including DailyMail and ABC.net.au.

The race was designed as a fun way to help gamblers determine the name and gender of the second Royal Baby, with each corgi assigned a name and odds (e.g. Elizabeth 5/1 and Boris 200/1). A video of the quirky race went viral, reaching more than 630,000 views and being featured on Good Morning America.

PokerShare.com, and their subsidiary CasinoShare.com, took advantage of high gas-prices in 2006 by staging an event where they played live music, distributed free food and gave $40 of gasoline to any New Yorker willing to make the trip. Over 8,000 gallons of gas was given away before the NYPD shut the event down due to its disrupting traffic. The stunt was covered by The New York Times, the Washington Post, Fox News and other media outlets, reaching over nine million people.

Maui Beverages was in dire need of some PR back in 2005, so they decided to shake things up and show the world how fun they were as a company. First, they officially changed the executive titles of CEO from Chief Executive Officer to Chief Entertainment Officer and CTO from Chief Technology Officer to Chief Tasting Officer. Next, they hosted an annual food and beverage trade writer's conference and threw a huge Caribbean-island themed party, handing out free sunglasses and Maui beverages. The company got a lot of positive press from the two stunts, and sales nearly doubled in the following year.

The restaurant, which ran for four days in a vacant Midtown Manhattan restaurant space, served customers bowls of their favorite Kellogg's cereals, with toppings of their choice, like nuts and fresh fruit. Kellogg's hired a chef to create custom combinations such as The Pistachio Lemon: a combination of Special K and Frosted Flakes with pistachios, lemon zest and thyme on top! The campaign was such a success (over 4,000 customers ordered nearly 3,000 bowls of cereal) that a permanent Kellogg's cereal restaurant is now being opened in Times Square.

Charity activist Ken Kragen organized the Hands Across America event in 1986. Around 6 million people joined to form a linked chain across the continental US, many of them donating money for their places in line. Despite not reaching its original fundraising goals, the Hands Across America stunt was big and audacious enough to attract national attention, and in the end raised around $15 million.

To promote its home décor line, Target partnered with ad agency Deutsch to install a 1600 sq-ft open-plan "dollhouse." Around 40,000 people stopped by to check out the installation, which was filled with around 4000 Target products. The campaign was covered in many online publications, including DailyMail, Fortune and HuffingtonPost.

To boost positive brand image and promote and connect themselves to values of family and community, Coca Cola enlisted the help of famous Italian chef Simone Rugiati. An unassuming Coca Cola truck pulled into a small square in Naples and opened into a small dining room, complete with table cloth, place-settings, fresh-cooked food, and of course, plenty of bottles of Coke. The YouTube video promoting the campaign has reached nearly 370,000 views.

To increase brand awareness and help out desperate New Yorkers in need of a decent public restroom, Charmin set up public restrooms in New York City's Times Square. Each restroom was stocked with plush Charmin toilet paper, had its own little sink and was cleaned after each use. Side-rooms held baby changing stations, stroller parking, even couches, TVs, a dance floor and Charmin representatives with survey questions. Over 5,600 people showed up within the first 24 hours of opening, and over 1.5 million between 2006 and 2009 people used the restrooms.

The Oscar Mayer Wienermobile was invented by Oscar's nephew in 1936, and there's been at least one of them patrolling the US pretty much ever since. Today, there are six Wienermobiles driving around the US, handing out whistles and spreading brand awareness, each one driven by a graduating college senior, who shares their experiences on blogs and social media.

On a seemingly normal Thursday morning in London's Liverpool Street Station, commuters were treated to a flash mob surprise! Three hundred and fifty people participated in a 3-minute-long synchronized dance captured by hidden cameras around the station. The captured footage was edited into a video ad which aired on television, ending with the words "Life's for Sharing" and the T-Mobile brand. To date, the YouTube video of the ad has more than 40 million views and 91,000 likes.

To celebrate their best-selling Barbie doll, toy company Mattel painted an entire street in Salford, UK, pink, covering everything from the roofs, windows, bricks and pavement. The stunt was covered by the BBC, Sky News and various local media stations, reaching an estimated 100 million people.

In 2010, two pop-culture phenomena at the height of their power, Glee and "flash mobs," came together for a collaborative publicity stunt of epic proportions. The hit TV musical Glee organized a flash mob of around 1000 dancers in three locations around Seattle, with people flying in from around the world to participate. A video of just one of the dance mobs has hit over 2.7 million views, spreading smiles and positive mentions of Glee wherever it goes.

Goodyear first offered their blimp as a camera platform to TV networks in 1925. Since then, the Goodyear blimp has become something of an iconic figure at large events, gaining tons of free publicity everywhere it goes.

The technicians at UK auto-repair shop Kwik Fit often find strange things in the cars they're working on. One such story involved finding a pet hamster, Jaffa, that had escaped from its cage on the way home from the vet. To celebrate this happy tale and spread brand awareness, Kwik Fit created a giant hamster wagon that tours its way around London. The giant hamster has been covered in online media publications and leaves behind a host of smiles and tweets wherever it goes.

For one day, August 28th, 2014, Reebok launched a campaign in NYC where anyone who tweeted their shoe size and address to Reebok's #ReebokHDS hashtag (HDS = Human Delivery Service) would have a pair of Reebok's new ZJet Trainers delivered to their door. The best part: people could try on the shoes and refuse them if they wished, just like in the store. In the 24 hours of the campaign, #ReebokHDS was tweeted 3,445 times and Reebok saw 195 million hashtag impressions.
 

Guerrilla Marketing

After 3 months of failing to find a job, Adam Pacitti used his remaining money to purchase a billboard. On it, he advertised a picture of himself with the words "I spent my last £500 on this billboard. Please give me a job. EmployAdam.com." The stunt took off on social media, netting Pacitti 60 offers of employment. In the end, he did get a job and put up another billboard that read "I spent my first wage packet on this billboard. Thank you for helping me."

The skydiving school Swiss Skydive outfitted the floors of high-traffic elevators in Switzerland with photos of bird's-eye views of the city, giving elevator-users a little taste of free fall. The photos were branded with the company's name and website information, leading to extensive TV and print coverage from both regional and national media outlet.


To increase prescription numbers, Folliderm (a brand used to strengthen hair roots) set up ads in the elevators of office buildings. The elevator doors showed a man with hair, and when they opened, the hair was "pulled off" to reveal a bald man within. Local doctors reported a significant rise in queries surrounding the treatment, signaling a clear win for Folliderm.

To spread word of their Monday Night Hot Wings offering, restaurant-bar Le Cactus placed large stickers of a man's head, his mouth open in a grimace of pain, on the backs of cars, with the cars' central brake-light causing the man's outstretched tongue to grow red. Customers raved about the stickers, and Le Cactus saw a dramatic spike in traffic following the campaign.

Folgers placed large stickers on manhole covers in New York City to create the vision of a steaming cup of coffee. The effect was a hit visually, but the smell of steaming sewers certainly did not make passers-by think of fresh-made coffee! In any case, the campaign was covered by numerous ad blogs, as well the New York Post.

The ad agency US Sydney promoted the upcoming release of Saga, the latest vampire-themed Twilight book, by placing two small, circular, red stickers, reading "the twilight saga" and "get bitten," on the necks of models in poster ads around Sydney. The campaign took off on social media, with Twilight fans using their own stickers to continue the campaign, creating vampire victims everywhere.

Photo by Bastian, Flickr, CC BY-SA 2.0
 

Stunts

Richard Branson, the CEO of Virgin, has been called the "undisputed king" of PR stunts, and there's a long list of stunts to prove it! Over the years, Branson has attracted media attention by dressing in a wedding dress to promote Virgin Brides, driving a tank down Fifth avenue to promote Virgin Cola, wearing a spacesuit to announce the launch of Virgin Galactic, and wearing a kilt to a media event to announce Virgin's new flights to Scotland.

The email app Mailbox created serious hype for itself by delaying its launch and setting up a virtual waitlist to make it clear how many people were waiting to use the app. The waitlist, which reached over 528,000 people, created tons of publicity online via blogs and social media.

DollarShaveClub is a subscription shaving service that sends you high-quality razors for only $1 a month. Back in 2012, they were a lowly startup in dire need of publicity, so they turned to YouTube star Paul Downs for help. The resulting video went viral (to date, nearly 23 million views) and led to tens of thousands of orders within 24 hours of its posting!


DC Comics was losing its audience in the early 90s due to their characters seeming stale and old-fashioned. To spice things up and regain the attention of their audience, they decided to kill off the invincible Superman. Far from being just a cheap stunt, however, the writers crafted a high-quality story for Superman's death. The comic was extremely well-received by readers and critics alike, and the ensuing media blitz revitalized DC Comics and led to millions of new readers.

In celebration of the 40th anniversary of the classic film The Italian Job (the old one with Michael Caine, not the one with Mark Wahlberg!) and the 100th anniversary of the creation of the modern periodic table of elements, the British Royal Society of Chemistry opened a competition to the public. The contest? Devise a feasible solution to the film's ending, in which a crew of thieves are stuck on а bus tipping on the edge of a cliff – with the gold at the cliff end of the bus. The competition received lots of media attention and brought in over 2000 solution entries.

When the National Railway Museum in York, UK, received an application from 6-year-old Sam Poiton for the position, they couldn't resist! Sam was ecstatic to get the job but slightly disappointed when told he still had to go to school. This cute stunt was picked up by DailyMail and BBC online, as well as numerous other media sites.

Not a bad way to promote their magazine poll of the world's 100 sexiest women! The stunt unsurprisingly drew a lot of media attention, even from big names like the BBC.

Online casino Goldenpalace.com made headlines in 2004 with their eBay purchase of a 10-year-old, partially eaten sandwich, famous for sporting a burn that resembles the image of the Virgin Mary. Buying a sandwich for so much money was such a ridiculous stunt that it made headlines in publications like the BBC, CNN, ChinaDaily, FOX and MSNBC. GoldenPalace capitalized on the free publicity with further ad-campaigns, including a world-tour of the famous grilled-cheese.

The Scottish soccer club Ayr United released the design of their new team jerseys by painting them on topless models. For some strange, unknown reason, the stunt was a hit and was covered by numerous sports, media and tabloid sites across Europe.

Half.com, a website that sold discounted items, convinced the town of Halfway, Oregon to change its name to Half.com for a year in exchange for $100,000, 20 new computers for the local school and other financial subsidies. The stunt was picked up by the media and led to enough publicity for the small online company that it was bought by eBay for $300 million the next year.

ProShade, a company that makes a 3-in-1 visor/sunglass/lanyard gadget, offered to pay the National Park Service $4 million in exchange for the opportunity to put their logo on the head of each President of Mount Rushmore. The offer was ridiculous enough to land a fair amount of publicity, even if most journalists could tell it was obviously just a PR stunt and not a legitimate offer. 

Bounty set up two large spills to play off their slogan "Makes small work of BIG spills": a giant, knocked-over coffee cup in New York, complete with steam and the smell of fresh coffee, and a 6-foot-long, 550 pound melting popsicle in Los Angeles. The two spills were seen by a combined 3.5 million people over the course of the 3-day stunt.

To celebrate the 20th anniversary of The Rainbow Nation, Coca Cola put up billboards all over Johannesburg that sprayed non-drinkable, recycled water overhead to create rainbows. A feel-good campaign if there ever was one, Coca Cola brought a lot of smiles to people's faces that day, as well as over 120k views to their promotional YouTube video.

Red Bull brought together leading scientists to help daredevil Felix Baumgartner freefall jump from 128,100 feet. Baumgartner, in a pressurized suit, fell at supersonic speeds before safely parachuting to the ground. Red Bull shared the gathered scientific data freely with US researchers involved with the space program, tied its brand to exploration and adventure, and set a new world record in the process! The stunt went viral, with one of its YouTube videos reaching over 40 million views.

Coca Cola's "Share-a-Coke" campaign has become something of a gold standard in the PR stunt world. Coca Cola replaced the normal branding on their bottles with 150 of the most common names in each country running the campaign: Australia, Great Britain, Northern Ireland, the US, Canada, Mexico and, most recently, Brazil. Adding a touch of personalization to their product was a huge success. The 2011 trial campaign in Australia alone earned more than 18 million media impressions and increased site traffic by 870% and page likes by 39%, and since then, those numbers have only gotten bigger!

In 1999, British Airways was trying and failing to open the huge, iconic London Ferris wheel, the London Eye. Also during that time, upstart Virgin Air was engaged in a public David vs. Goliath-like battle with British Airways. When Virgin caught wind that BA was having trouble erecting the London Eye due to technical difficulties, they capitalized on the situation and quickly put up a blimp, emblazoned with the words "BA Can't Get It Up!!", over the Eye.  Virgin effectively hijacked BA's publicity, as all of England's eyes were already on the Eye, waiting for its grand opening.

To promote their NASCAR racing team, Reb Bull took a stock car to NYC and performed an impromptu pit-stop for a surprised crowd. A crew rushed in and changed the tires, leaving driver Brian Vickers to peel out down the street. The ensuing video received over 100,000 views within five days of being posted and to date has nearly 1.4 million views.

To promote an upcoming new season of the series, the marketing team behind Vampire Diaries installed water coolers filled with red-colored water to look like blood in an office building. The campaign certainly caused a stir in the office that day, and as each cooler prominently displayed the words "Vampire Diaries 2 – Thursdays 8:30 PM," it led to many new viewers as well.


Italian automotive company Lancia decided to creatively demonstrate the power of their new car, the Delta, with an escort of 200 horses. Two hundred riders on horseback flanked Lancia's new car for an impressive ride outside the RAI International Motorshow, Holland's biggest auto show, capitalizing on its PR power without even officially attending. The stunt pulled in the equivalent of €120,000 worth of free publicity.
 

Products

The multinational consumer goods company sought to increase the appeal of Easter, and no doubt attract media attention, with their release of Marmite- and Pot Noodle-flavored chocolate Easter Eggs. While it's unclear if anyone actually enjoyed these flavors, their release was strange enough to work as an effective PR stunt, netting Unilever publicity across social and traditional media channels, including Telegraph, Dailymail, Mirror and Telegraph.

Expanding on a tongue-in-cheek comment from a customer complaining of people eating his ice cream, Ben & Jerry's designed the Euphori-Lock. This lock, available for purchase in any Scoop Shop as well as on Amazon, requires a code to open and comes printed with the words "I'm terribly sorry, but there's no 'u' in 'my pint.'" The lock has been featured online both in Adweek's AdFreak blog and on DVice.

The ice cream, a limited-edition batch of 40 pints titled Bernie's Yearning, featured a tub of plain mint ice cream to represent the 99% and a thin mint chocolate disk on top to represent the wealthy 1%. Although Cohen personally made the special batch, and the stunt was in no way officially linked to Ben & Jerry's, Ben & Jerry's still capitalized on a ton of free publicity.

Back in 1951, the managing director of Guinness Brewery hired a fact-finding agency to compile a list of facts into a 198-page book, which was then distributed to bars to settle bar bets and promote the Guinness brand name. It was such a success that Guinness ordered 50,000 more copies printed, with renewed additions every year to this day. These days, the book sees sales of upwards of 100 million copies in 100 different countries.

11 elderly members of the Women's Institute of Yorkshire, UK, posed nude for a calendar photoshoot in 1999. The calendar showed the women artfully covered by baked goods, plants, etc. and was a huge hit, selling over 800,000 copies for charity and even inspiring a movie called Calendar Girls, starring Helen Mirren and Julie Walters.

While the ice cream itself was only sold for a few hours (Westminster Council declared it possibly unfit for human consumption and shut the stunt down), the announcement garnered a frenzy of media attention and drew crowds of curious customers to the shop.

For one day last year, Burger King Japan sold a limited edition cologne called Flame-Grilled Fragrance for around $42. Though this (sadly) does not mark the first time a fast food chain has released a fragrance, the stunt still sparked media attention and was covered online in publications like Forbes and CNN.

Del Monte marked the launch of their Superfruit Smoothies with a limited-edition Daniel Craig-shaped lollipop, increasing sales by 25% in the following week.
 

Hoaxes

Back in 2007, rappers Kanye West and 50 Cent went toe-to-toe with each other on who could sell more copies of their soon-to-be-released albums. At the time, the feud seemed quite real, with 50 Cent even claiming he'd retire as a rapper if Kanye won. Kanye later revealed it was all an elaborate publicity stunt, however, and a successful one at that, as it generated massive press around both their albums, helping each to reach platinum status.

Leading up to the release of their budget horror film, the creators of The Blair Witch Project advertised the film as a documentary, claiming the movie was the found footage of three missing (and presumed dead) teens. These claims generated lots of buzz and excitement around the film, helping it to gross over $250 million.

A publicist normally known for his work in the film industry helped a restaurant attract hordes of customers by installing a large, empty aquarium and advertising the world's only living Brazilian invisible fish. Some people even claimed to have seen it!

IKEA Belgium uploaded a video in 2015 covering a magnificent stunt: a wireless bungee jump, using giant magnets to catch the jumper before he hit the ground. Unfortunately, wireless bungee jumping of this kind is not actually a thing – the video was a fictional story, a promotion for IKEA's new wireless phone charging station, but the campaign was so well put together that the video took off online and was picked up and featured on many different blogs.

Ivar's, an iconic seafood restaurant in Seattle, claimed in 2009 to have found several old billboards from the 50's submerged in the Puget Sound. The story, which turned out to be a hoax, was picked up by local media outlets and played up by Ivar's publicity team, leading to a 10% increase in the next month's sales and a 400% increase in sales of clam chowder from the year before!

To raise awareness of women's issues, the Dutch organization Women on Waves set up a stunt in which they sailed to Dublin, picked up pregnant women and then sailed into Dutch waters where abortion is legal under Dutch law. The stunt caused an uproar in both governments, creating tons of publicity for the organization.
 

Controversy

After the 2012 Super Bowl, in which the undefeated New England Patriots lost to underdogs, the New York Giants, Pawngo hopped on the mock-the-Patriots bandwagon with a 900 lb delivery (8000 bars) of Butterfingers bars. They piled the bars in Copley Square in downtown Boston, the land of die-hard Patriots fans, along with a girl standing with a "Thank You Wes Welker" sign, referring to the Patriots' wide receiver's dropped catch in the 4th quarter. The stunt stirred up quite the controversy, bringing the previously unknown website into the limelight.

Budget supermarket chain Morrison's projected a 54-meter-long image of a baguette onto the outstretched arms of the famous "Angel of the North" statue in Tyne and Wear, UK. Included in the projection were the words "I'm cheaper at Morrison's." The stunt stirred up some minor controversy and received a lot of regional press coverage as a result.

Leading up to the 2014 World Cup, English bookmakers Paddy Power tweeted a photo from a plane of what appeared to be a section of rainforest with trees knocked down to spell the words "C'mon England PP." Activists and social media practically blew up with fury, and the story made global news. In short, everyone was talking about Paddy Power. Of course, the photo had been a fake, and Paddy Power later revealed it was all part of a stunt to raise awareness of deforestation in the Amazon.

GoldieBlox, a company that creates toys and games "for future engineers," created a video about getting young girls interested in and involved with technology. The video went viral, reaching three million views in two days, and eventually led to a lawsuit with the Beastie Boys because of the video's music. The controversy kept GoldieBlox in the headlines for weeks, bringing tons of publicity to a previously unknown company.

Taco Bell took out an ad in the New York Times on April 1st, 1996, claiming to have purchased the Liberty Bell from the US government to help out with the national debt crisis. The ad claimed they'd renamed the iconic bell the "Taco Liberty Bell" and that it would continue to be available to the public for viewing. Despite being an obvious April Fool's Day stunt to many, the stunt stirred up quite a controversy, landing Taco Bell a ton of free publicity, with coverage in 650 print media outlets and 400 broadcast outlets. What's more, compared to the previous week's sales, Taco Bell's sales increased by $500,000 day the next day and $600,000 more the day after that!

British actor Sacha Baron Cohen performed a number of different stunts in character as Borat to promote his upcoming film, Borat. The campaign of PR stunts was extremely successful, and controversial, and publicity rolled in from all directions. Sacha landed interviews, in character, with CNN and Fox News, MSNBC dedicated a five-minute segment to the controversy, and the film went on to gross more than $260 million at the box office.